Coming Soon – Inverse Kinematics Modeling: Improving Actuation Control in Industrial Robots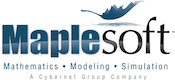 From small task robots to large industrial manipulators, an effective solution to the inverse kinematics problem is a necessary part of the actuation control system. Using several examples, this 30-minute webinar reviews typical challenges and computational requirements of numerical solutions and compares how the use of modern simulation tools can provide modeling options that reduce effort and simplify connection to control systems. Learn how these techniques can be applied and lead to innovation in actuation control strategies for industrial robots and manipulators.
In this session, you will learn:
How Various Types of Inverse Kinematics Problems Can Be Solved
Where to best apply modeling to overcome the computational demands of complex engineering control systems
How Simulation Can Work With Your Existing Toolchain to Accelerate Industrial Machinery Product Development
A question-and-answer session with the public follows the technical presentation.
Speaker:
Orang Vahid, Ph.D., Director, Application Engineering, Maplesoft

Dr. Orang Vahid is the Director of Application Engineering at Maplesoft. He holds a doctorate. in Mechanical Engineering from the University of Waterloo and has over 20 years of experience in system-level modeling, advanced dynamic systems, automotive friction, noise and vibration-induced vibration and control, and design in mechanical Engineering. Orang is a frequent guest speaker and has published numerous articles on engineering design topics.
By registering for this webinar, you agree to receive product announcements and special offers from SAE International via email. By submitting your personal information, you agree that SAE Media Group, an SAE Global Company, and carefully selected partner sponsors of this content may contact you and that you have read and agree to the Privacy Policy (CA residents refer to the section D of the Privacy Policy Policy). You can unsubscribe from communications at any time. You can reach us at This email address is protected from spam. You need JavaScript enabled to view it..