LoadMate bridges the gap between cobots and industrial robots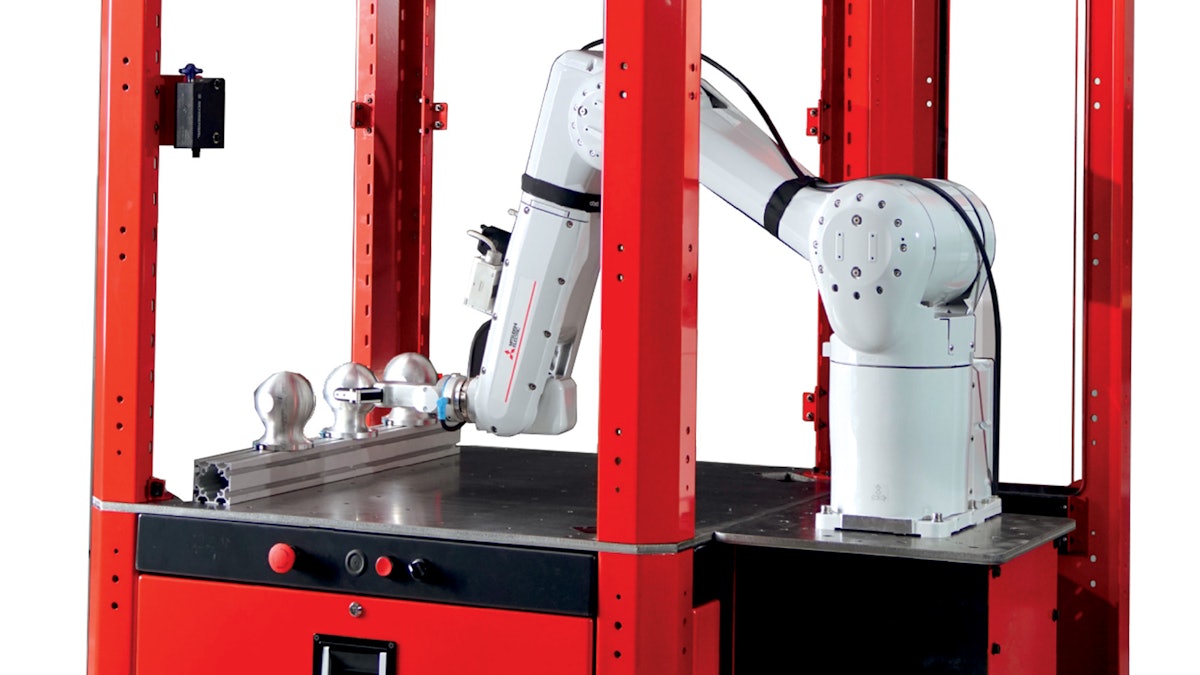 The Mitsubishi LoadMate Plus Machine Tending robot cell is a compact and robust portable robot cell that can handle payloads up to 20 kg with reach lengths of up to 1388 mm.
Absolute machine tools
Absolute Machine Tools will be co-exhibiting the LoadMate Plus machine maintenance robotic cell with partner Mitsubishi Electric Automation (MEA) at IMTS 2022 in booth #338519.
Designed and built as a joint project between MEA and Absolute to bridge the gap between collaborative robots and industrial robot automation cells, the Mitsubishi LoadMate Plus Machine Tending robot cell is a compact and rugged portable robot cell which can handle payloads up to 20 kg with reaches up to 1,388 mm. It can be easily integrated into CNC machines in one step using MEA's direct robot control feature.
The machine maintenance robot cell will be demonstrated live with the Absolute Machine Tools Seiki KT-420L CNC milling/drilling/tapping center.
Capable of loading, unloading and palletizing parts in any low to high volume mixing application, the plug and play LoadMate Plus robot cell offers the high strength of industrial robots in a secure and contained cell.
Several models of Mitsubishi vertical robots, including all RV07, RV-8, RV-13 and RV-20 series, have been tested and proven within the cell enclosure.
Its portability makes it easy to add automation function to a variety of CNC applications, increasing throughput and saving valuable time.
At IMTS 2022, the Demo Cell is intended to show attendees how affordable and simple automation can be achieved. The Seiki KT-420L is built standard with Mitsubishi M80A control with a dedicated CNC processor enabling fast processing speeds and ensuring seamless integration with the LoadMate Plus cell and robotics.
Featuring a moving column/fixed table design with rotary pallet changer, the machine's integrated rotary-type APC unit is located at the front of the machine for easy access. The machine changes fixed tables in 4.5 seconds using a hydraulic cylinder to rotate the pallet and a Hirth coupling hydraulic clamping mechanism to clamp the pallet in place without lifting for exceptional repeatability.